Arthroben
Arthroben is a medical food product used for managing osteoarthritis and musculoskeletal inflammation.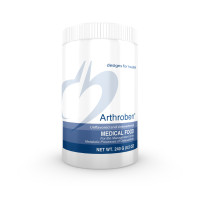 Arthoben works by reducing inflammation. It offers powerful antioxidant protection that works to reduce joint deterioration, increase joint mobility and function, and stimulate joint repair by providing the nutritional building blocks for cartilage and ligaments. Arthroben can be used as an alternate yet effective treatment for these conditions without the negative side effects of the standard treatment, NSAIDs, which range from gastrointestinal distress to congestive heart failure. Since Arthroben is not a drug, it is virtually free of any side effects. We've heard nothing but praise from our patients who have tried this supplement - Arthroben's main component, flavocoxid, has been scientifically proven to be as effective as naproxen for symptom management.
This product is both gluten free and certified non-GMO. Each unflavored/unsweetened jar is filled with a 30-day supply of the supplement, and each serving can simply be mixed with 8 ounces of water or juice.
Image via Designs For Health®